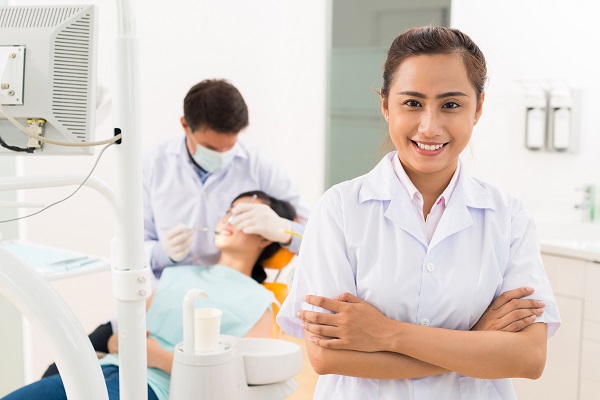 What it Takes to Become a Dental Assistant
Becoming a dental assistant is a popular job choice because it offers a stable salary, the ability
to help others, and a quick entry into the workforce of dentistry. Dental assistants need to have
a high skill level and the ability to pay attention to detail. If this sounds like the job for you, here
is what you need to do in order to become a dental assistant.

Get Your Education
Dental assistants may attend a program at a technical school or community college. It usually
takes around two years to get the schooling, depending on the certificate, degree, or diploma
pursued. Education includes hands-on learning in a clinical setting. Typical coursework includes
dental materials, dental pharmacology, oral anatomy, CPR and first aid, and dental radiography.
Not all states require students to get an education before becoming a dental assistant.
However, those who do have an advantage over the competition since they've had in-depth
training and a chance to really learn about what they're doing compared to assistants who learn
on the job.

Get an Externship
An externship is a voluntary part of coursework. An externship gives students a chance for real
world learning by assisting a dentist in their office, allowing them to really see what the job is like
and what they're signing up for. It's here that students learn about dental pathology, oral
anatomy, oral hygiene, radiology, and dental pharmacology. Students looking to focus on a
particular area of dentistry can seek dental assistant training that focuses on their desired area
of expertise during their externship.

Get State Licensing or Certification
The certification and license requirements for dental assistants are different from one state to
another, so it's important to be aware of what your state requires. It is recommended that a
person contact their state dental board or look at the Dental Assisting National Board's website
information. The DANB's certified dental assistant examination covers radiation health and
safety, general chairside, and infection control.
Of the 900 possible points scored on the exam, students must score 400 or better to get the
certification. Some states may require additional coursework for students who fail the first time
around to retake the exam. If a student wants to work in a specialized position, they can get
additional training and certification in orthodontics, preventative functions, and therapeutic
functions.
Get a Job
After graduation and licensing, you will have several opportunities to work in various settings
and specialty areas. This field is one of the fastest-growing occupations in the US and has an
annual salary of between $41,000 and $58,000.
As a dental assistant, you will be one of the first individuals the patient encounters. Your
professional and compassionate communication will go a long way in making the patient feel at
ease. It is estimated that the need for dental assistants will continue to grow over the next two
years. This makes it a job that offers possibilities now and room for growth in the future.
---
Kara Masterson is a freelance writer from Utah. She graduated from the University of Utah and enjoys writing and spending time with her dog, Max.
---
Disclaimer: The viewpoint expressed in this article is the opinion of the author and is not necessarily the viewpoint of the owners or employees at Healthcare Staffing Innovations, LLC.
---